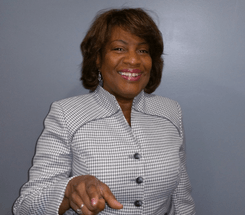 Brenda J. Medley Ministries
Brenda J. Medley has her heart connected to the mouth and heart of the Most High God. She is a prolific speaker, an extraordinary prophetess and a disciple of the Word of God (the Bible).
She is pastor of Empowered Ministries in Clinton, Maryland where the glory of God is manifested through His presence, spiritual gifts and healings (check out our testimonals). She founded the Real! Gospel Divinity School and Phemi School of Prophets (a biblically based online training center for the five-fold ministry gifts; identifying, developing and utilizing spiritual gifts; spiritual warfare and healing and deliverance training.
She hosts numerous workshops and conferences as well.
She has authored two books, Dealing With Life's Issues and Visitations to Heaven and Talking With Angels and written many other literary materials.
She is founder of 'No More Silent Tears,' a support group for domestic abused women and she ministers to a halfway house for men.
She is director of numerous outreach evangelism programs where she actively pursues the 'Great Commission' locally and internationally in Africa, India and Israel, and the U.S. along with her evangelistic team.
All Worship Services will be held on Zoom until further notice:
Join us on Saturdays
at 11AM (EST)